An ideal strategy for freeing up extra space in your office, records storage services from Brooklyn Document Scanning allow you to keep documents you might not use frequently, but still must hold on to for retention, security, or confidentiality purposes. Businesses are still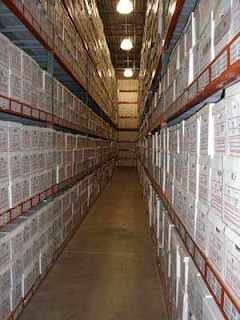 able to access files at any time, and there are even emergency retrieval services if a stored document is needed immediately.
At Brooklyn Document Scanning, we provide document storage and retrieval services to meet all needs and budgets. We can help you optimize your document retention plan, reduce the amount of filing space in your office, and eliminate the need to secure and store documents you otherwise would store in-house for the long-term.
Factors to Consider When Searching for Records Storage in Brooklyn and New York
Simplicity & Cost Savings in Brooklyn
Are you using expensive office space to maintain records and information? Document storage services from Brooklyn Document Scanning help you to free up expensive room floor space, giving you the option to use space in your office more efficiently while enhancing the productivity and efficiency of employees who maintain your documents.
Security & Access Control in Brooklyn Facilities
Security and access control is key to keeping your files out of the wrong hands and away from prying eyes. Documents that contain personal or confidential information should be secured and accessed by authorized personnel only. Brooklyn Document Scanning's secure document storage facilities only allow authorized persons to access and retrieve stored files, making it a viable solution for securing confidential files, personnel records, and important documents related to your business.
Climate-Controlled Document Storage
Brooklyn Document Scanning's secure records storage facilities provide temperature and humidity-controlled storage for documents in all formats. This means that you have the ability to store any type of media or file and don't have to worry about damage over time due to the environment—which you have little control over in your office. We can store a variety of documents, including:
Paper
Film
X-rays
Microfilm
Discs
Magnetic Tapes
The facility also has a backup power source that insures the temperature and humidity are maintained even during a power outage.
Disaster Planning in New York
Unforeseen natural disasters or other catastrophes can have the potential to damage years of important business documents. Using Brooklyn Document Scanning's offsite records storage facilities can be an essential part of your disaster recovery program, as they are designed to protect your records from environmental hazards and help your company get back on its feet as soon as possible.